Running
The platform of skill exam delivery: CertieXam (CX) is based on a client/web architecture, but it does not require any server location in the classroom for the exams delivery. Therefore, main components of the system are:
For Distributor:
CX System Server with centralized Server SQL database, for downloading software for exams, certifications and DB candidates.
For Authorized Test Center:
Client Workstation: made by an exam PC connected to Internet with the software CX System Client installed.
Printer connected to the Client workstation, to print the Score Report at the end of examination.
The following outline shows an example of the structure and components of the system for certification: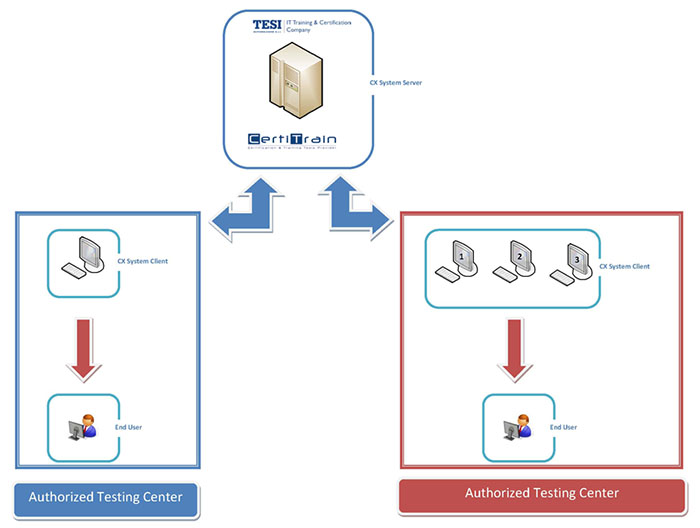 CX System platform is now available in Italian, English, and Arabic and allows the following examination types:
Multiple choice
Questions with multiple eligible answers
True / False
Simulation of applications
Different paths to execute the same activity
Minimal requirements for installing CX System on Client workstation:
CPU: 900 Megahertz (MHz) Processor or higher
RAM: 1 GB minimum
DISPLAY: 1024x768 resolution or higher
INTERNET CONNECTION: ISDN / ADSL
OPERTATING SYSTEM: Windows XP or Windows Vista (32 BIT)
Adobe Flash Player version 7 or higher
Microsoft .NET Framework 3.5
CX Platform General Features:
Client / server web based architecture
Management of Authorized Test Center Profile
Authorized Test Center Management & Administration
Management Candidate Profile
Safety CX Client / Server Data transfer
Help desk live chat
Possibility of remote access to Client location
Authorized Test Center Members Area